Alfred Dunhill Links Championship
The relaxed, friendly nature of the event is a combination of the chemistry of the Professionals and their Amateur partners alongside the knowledgeable and welcoming locals as well as the inspirational setting of the Championship.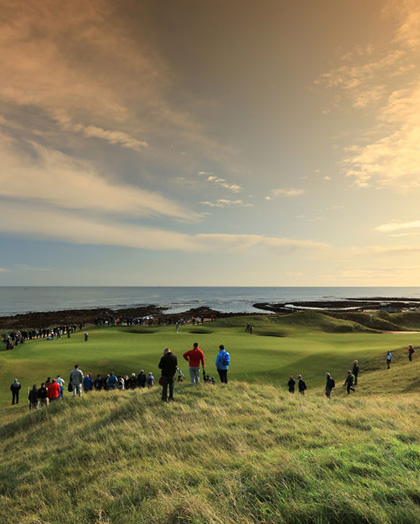 "We have developed a great working relationship with the Alfred Dunhill Links Championship over several years. The organisers have been proactive in helping us deliver informative events for local school, college and university students and other groups featuring some of the celebrity and international business figures who compete in the annual tournament.

We've enjoyed this level of engagement, which has really benefitted a wide cross section of our community, and we look forward to further developing these ties going forward."
Mandy McKenzie, Enterprise Co-ordination Officer, Dundee City Council
"Fife Chamber has had the pleasure of working with the Alfred Dunhill Links Championship for many years to help them to reach out to local businesses and community groups across Fife. Our partnership with ADLC is great for our members and it gives the Chamber's profile and reputation a huge boost to be associated with such a well-known, respected and iconic event. We are excited about the opportunities to broaden and deepen our relationship with the Alfred Dunhill Links Championship for our mutual benefit and for the wellbeing of Fife."
Alan Mitchell. Chief Executive, Fife Chamber of Commerce
"We've worked closely with the ADLC team for a number of years now as it is a wonderful event for visitors to enjoy, and the championship is a superb platform to further promote tourism in the area. As well as being able to watch some great golf, visitors can enjoy all the things to do and see in and around St Andrews during their stay and even 'celebrity spot' in town! The ADLC team actively engages with our local businesses to ensure that visitors experience a memorable stay and enjoy the golf championship and our royal burgh to its fullest."
Debbie MacCallum. Chair of Tourism St Andrews
Tickets
We are delighted to be back at St Andrews, Carnoustie and Kingsbarns for what we are sure will be a memorable and enjoyable 20th Anniversary Alfred Dunhill Links Championship, which will be staged from Thursday, September 30 to Sunday, October 3.
Admission is FREE for spectators over the first three days. Final day tickets for the Old Course St Andrews on Sunday, October 3, are available for £20 (Concessions £15).

Please note that because of covid regulations, spectator capacity on each course will be capped at 4,000 on each of the four days. Entry will only be permitted to ticket holders.

Tickets will still be needed for the Thursday, Friday and Saturday, even though there is no charge.

Click here to book tickets. They will be available on a first come, first served basis.

We have been working closely with the Scottish Government to ensure that we can stage a Championship that captures the excitement of the event, while mitigating against any remaining problems caused by the pandemic.

Although it will not be mandatory for spectators to provide proof of a negative lateral flow test to gain entry into the event, we encourage all spectators to self-test at home prior to attending the Championship.

The Health & Safety of fans, players & staff will be at the centre of all planning for the event, and government guidance at the time of the event will be followed in this respect.

If Scottish Government covid regulations concerning the status of the event change and spectators cannot attend, ticket prices will be refunded.


Please note, courtesy to fellow spectators and players is a given and for the security of all, bag searches will be in operation onsite across all three venues during the Championship.
Where can I park?
Alfred Dunhill is pleased to offer free parking at all three courses. Please follow the yellow AA directional signage on the approach roads and the direction of stewards on-site. Please note, vehicles and property are left entirely at the owner's risk.
Is there disabled access and parking?
Absolutely. Disabled spectators will need to display their disabled parking badge and should park at the Red Car Park at each of the courses.
Is there a shuttle bus service?
Event shuttle buses between the courses are not running this year.
What is the policy for mobile phones and cameras?
Spectators are allowed to bring both mobile phones and cameras provided any photography is for personal use. A strict policy will be in place to ensure play is not disrupted in any way and users should follow the guidelines below:
All devices must be in SILENT mode at all times
No audio or video recording of 'live play' is permitted on the golf course at any time during the Championship due to rights-restrictions. However, cameras and filming are allowed in the spectator village and surrounding areas.
No still photography on the golf course is permitted on Championship Days.
Data use (e.g. texting, e-mail, website access, etc.) is permitted throughout the golf course, but volume must be muted at all times.
Spectators who breach any provision of this policy will be subject to the terms and conditions of entry and maybe asked to leave.
Can I bring my own food and drink?
Yes, but alcohol is not permitted. Food and drink is also available to purchase on site. Please help us respect the beauty of the courses and town and take your litter home with you.
Are dogs allowed?
Yes, dogs are welcome, and should kept on a lead at all times please.
Can I bring a bag / rucksack?
Bags and rucksacks are permitted on each of the courses during the Championship but may be subject to a search on entry.
Can I bring a child's pushchair?
Yes you can. However please be aware of uneven terrain.
Can I buy a programme?
The daily draw sheet will be available at all three courses. The Links Times, which includes the draw, championship news and the order of play, is available on Sunday at the Old Course.
Is there a draw for practice days?
No, we do not have a draw available for the practice days. Practice is entirely at the Players' discretion.
What are prohibited items?
Prohibited Items are items which, in the opinion of the organisers (or any authorised person), could be used as a weapon, cause a nuisance, be anti-social or disrupt play.
The definition includes obvious examples such as firearms, knives and extends equally to items such as corkscrews and personal protection sprays as well as:
Pyrotechnic devices including fireworks, explosives, smoke canisters, flares, laser pointers or similar items;
Noise producing devices including air horns, portable speakers, PA systems, megaphones or similar items used for amplification or broadcast;
Unmanned aerial vehicles (UAV), including drones, model aircraft, kites or similar airborne crafts/items;
Professional cameras and video cameras or any photographic equipment which could be used for commercial purposes;
Unauthorised banners, signage or branding.
This is not an exhaustive list. Please use your common-sense.